Potters Platinum
Platinum metal may be deposited onto ceramics for decorative purposes. It is applied in a 'paint' which is then fired. This may be suitable for anodes.

Quote:
Google for "Hanovia Bright Platinum". Englehard's 
product is used quite a bit in labs to avoid the expense and mess of 
electroplating Platinum. 2 grams of the HBP cost $15.50 at a local potters
 shop, and there is enough to do at least three or four of these anodes, 
 at about 5sqcm per anode. 
.
Englehard's 'Hanovia' is shown here and is available on ebay from Merlin's ceramics.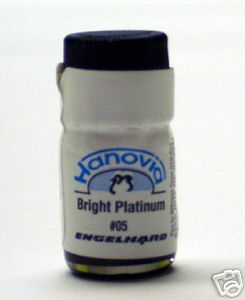 ---
HIT THE BACK BUTTON ON YOUR BROWSER